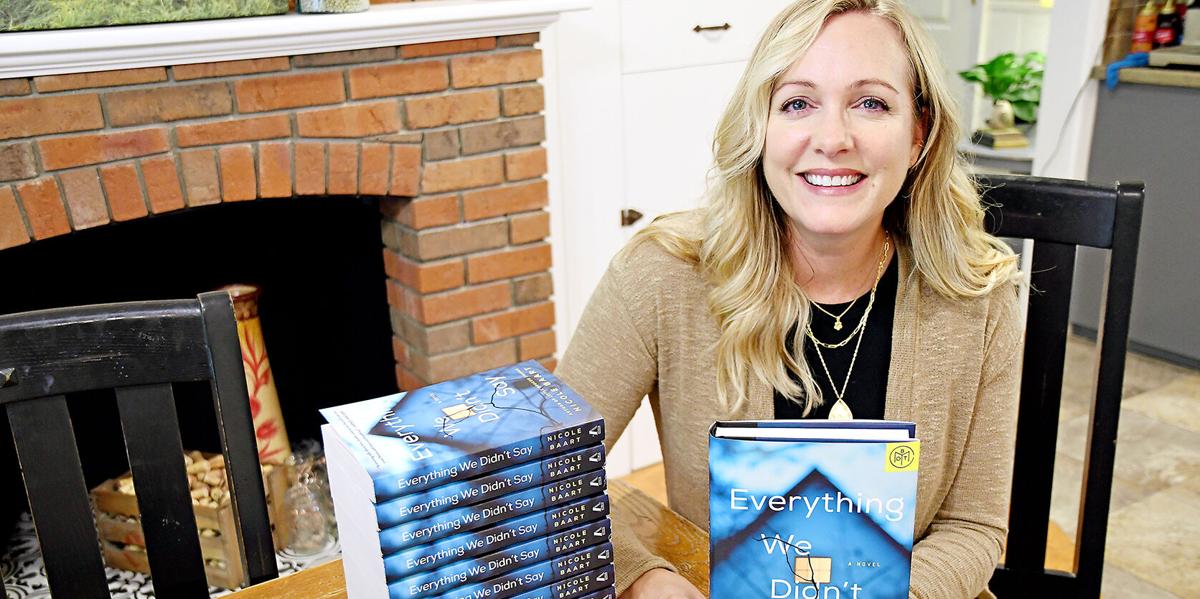 author of Sioux Center publishes his 10th novel | Sioux Center News
SIOUX CENTER — The New York Times bestselling author and resident of the Sioux Center has been on the cusp of a milestone for more than a decade.
Tuesday, November 2 marks the release date of author Nicole Baart's 10th novel, "Everything We Haven't Said".
"I'm so grateful to be still here writing," Baart said. "Honestly, I still wanted to write books when I was 85. I hope I will write again when I am a little grandmother. The fact that I can do this thing that I love is so incredibly humbling.
"At the very beginning, an author whom I admired a lot told me that if you manage to make 10 books, you will see everything change; 10 was the magic number. It didn't really make sense to me until now. It's exciting to be in 10th, especially because it was chosen as the book of the month for October. I was delighted, speechless, to be in this group. I feel like a tiny little ant among the giants and I am honored to be a part of it. "
"Everything We Haven't Said" is about four years of domestic thriller.
"I was supposed to release the book three years ago, but it didn't work out," Baart said. "We have had a lot in our family life personally. I was in the wrong place to write and couldn't get the story where it should be. I wrote a draft and they sent it back to the drawing board. I did it again, COVID hit, I gave it back and it still needed work. This is my 10th book and by far the hardest book I have written. I had no idea this book would ever be published.
Reading the book "Fire up your writing brain" by Susan Reynolds, which explores the neurosciences to become a more creative and successful writer, helped Baart return to pen and paper to write this novel.
"I handwrote my first five or six books, then decided I was past that and wrote the next ones on the computer, but with this book I came back to writing. handwritten, "Baart said. "Writing on paper with pen and paper activates a completely different part of your brain than writing on a computer… I bought the notebooks and pens that I love and locked myself in a back room with no phone or computer and I started writing and left. Things started to make sense, started to flow. I thought I had matured and didn't need pens and paper anymore, but I was wrong.
Even her arthritis didn't stop her from completing what Baart considers one of her favorite novels.
The synopsis reads: "Juniper Baker was 19, in college, and deeply in love the night her world was torn apart. As fireworks lit the sky, his neighbors were brutally murdered just outside their barn and his younger brother became the prime suspect. In an instant, everything she loved fell apart. She escaped, vowing never to return to her small town of Iowa.
So far. Juniper is back in town to "help a friend." But really, she's here to mend her relationship with her teenage daughter her parents raised, the source of her deepest regret – and to resolve. the infamous Murphy's Murders. The key to both lies in the darkness of the distant night that has haunted her for 15 years. As history begins to repeat itself and a stubborn local podcaster on real crime begins to unravel. plunging into the murders, the race for the truth puts the past and the present on a dangerous collision course. Except this time, it is the life of his daughter which is at stake. "
Baart created the plot of the novel from an amalgamation of many different things.
"I came across an unsolved homicide, an unsolved case in Iowa that has yet to be resolved," she said. "It really hit me and stuck with me.
"I also had a romance in college with a guy who worked in Yellowstone over the summer. He sent me letters he wrote from Yellowstone and he always slipped something inside. Once he brought in a sprig of juniper. When I opened the letter, I could smell this juniper. It was a very evocative moment and at the time, twenty years ago, I had this idea that it would be fun to one day write a novel about a girl named Juniper. This is where the name of the main character comes from.
Baart said Juniper was "one of the coolest and most dynamic characters I have ever created." Part of Baart's admiration for the character comes from the fact that Juniper is a librarian.
"I've always wanted to write a book about a librarian or a bookseller because it's my heart and my passion," Baart said. "If I didn't write books, I would work with them, maybe at the Sioux Center public library or by opening a bookstore. I'm kind of a big fan of books. Sadly, we don't have a lot of time with Juniper in the library romantically between stacks, but it's my way of sneaking into a little piece of myself.
Set in fictional Jericho, IA, the novel also touches the basis of Baart's love for small towns.
"What's quaint, cohesive, sweet and idealistic in so many ways about small towns – what's true about Sioux Center, we love it, that's why we live here – there's a flip side too. I love exploring this, "she said. "I love Sioux Center, my hometown, but I've also lived outside of Sioux Center and can see it from an outside perspective as well. The line between good and evil is not between you and the outside world, it is right in the middle of Main. We would have liked to think it's around the outer borders of our city, but that's just not true. I like to explore this rupture and the juxtaposition of the two together. "
The end product was a collaborative effort that taught Baart two valuable lessons.
"I walked into this book believing it was book # 10, I know what I'm doing, I can fly it. I was really humbled in the process, "she said. "I discovered that a) I still have a lot to learn and b) I really need my community around me. This consisted of my agent, who stayed by my side and solved a lot of my issues, my editor who became a dear friend and a third group of people who helped me were my author friends Tosca Lee and Kimberly Stuart? They're like sisters and these two really helped me get through it.
Through wrestling, Baart has created a book that excites him more than others.
"There are things to come that I know but cannot say yet," she said. "It's really fun and exciting to think that a lot of people will read this book."