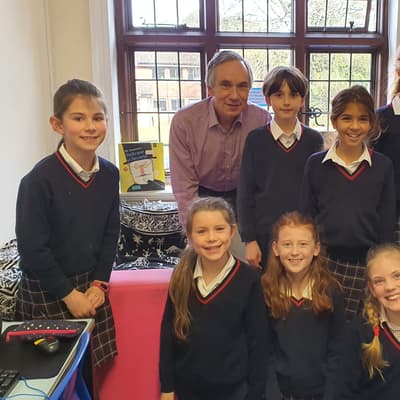 Children at Royal Prep School in Haslemere inspired by author's visit
THE AUTHOR Jon Gilbert visited the Royal Prep School and inspired students.
The pre-prep kids – from reception through 2nd grade – listened with great excitement to Jon reading his fun and informative children's book Tree Fellas: Olly Oak.
Reception class teacher Sammy Collins said: 'We thought it was a brilliant idea for the acorns to play football while the humans weren't watching, and we could all relate to the feeling of accomplishment. felt when achieving a lifetime goal, like Olly winning the FA Cup.
"We ended the session with a walk in our woods, trying to find our own Olly Oaks.
"What a brilliant morning we all had."
Children from Royal Prep School's Little Sailors Nursery also enjoyed story time with Jon, where they learned that baby trees are called saplings and were fascinated to hear the secret that 'trees take life when children and adults are not watching.
After reading the story, the children went in search of oak trees and their very own Olly.
The 4th and 5th graders were then thrilled to welcome a real-life author to their creative writing club.
Jon was inundated with questions about building a plot, characterization, and what to do when you get writer's block.
Prep 5 teacher Clare Mee said, "He was eager to see what the kids were working on.
"He gave Karishma advice on her mystery novel and talked to Phoebe and Ellie about what to do when you have too many ideas.
"Jon enjoyed seeing the children's mind maps for Olly Oak and then he joined us for lunch to discuss all things bookish.
"It was a privilege to spend time with a professional who inspires our own young authors."