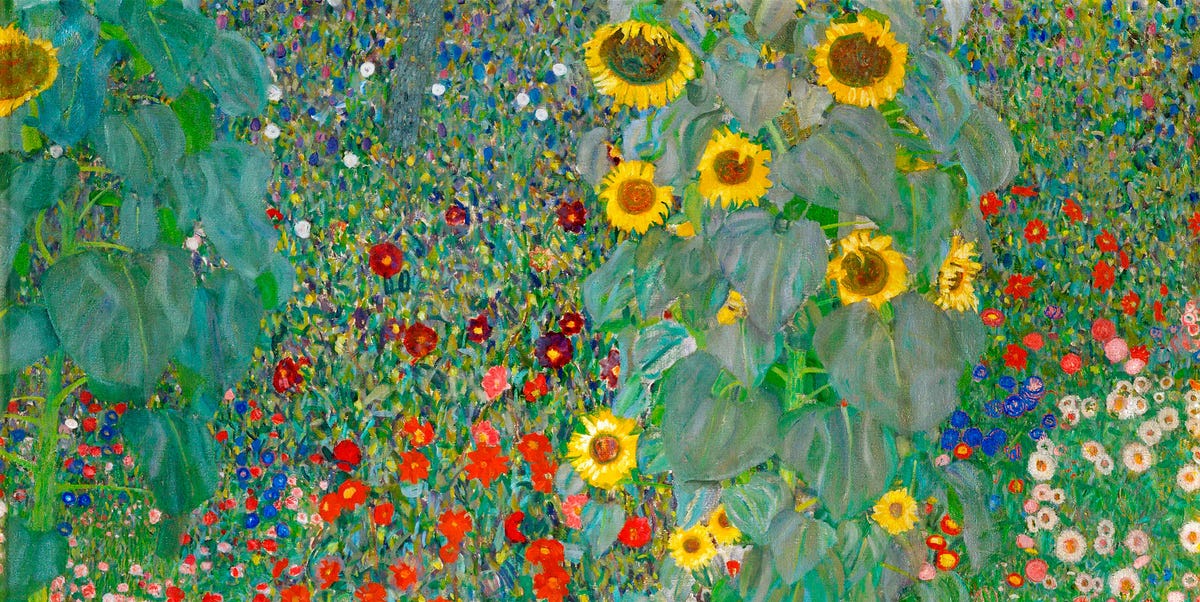 How a writer's garden became her place of strength and serenity
Farm garden with sunflowers (1905–06), by Gustav Klimt.
---
Growing up as the daughter of poor Panamanian immigrants, I never had a garden. Then in college I read Alice Walker In search of the gardens of our mothers, and having a garden took on new meaning for me. It became a metaphor for grounding myself and my work in the long history of black women's activism, creativity, and craftsmanship in the fissures between race, gender, and class that others attributed to you. Walker's book is full of lush and powerful prose, but almost every black woman I know can recite this line from memory: "Guided by my heritage of love of beauty and reverence for strength, in search of my mother's garden, I have found my own."
In the summer of 2020, the United States saw the largest protest movement in American history in Black Lives Matter. It was a difficult summer, during which I often went to bed crying and woke up crying. It is also when my employer, the New York Times, gave me the opportunity of a lifetime: to work in one of its overseas offices. So, with social upheaval and a raging pandemic in the United States, my husband, daughter and I moved to London.
In New York we had lived in a serviced building with a doorman, but I wanted our London setting to be different. Of course the practicality of having a maintenance crew and reception staff was tempting, but I wanted a classic British terraced house, which usually came with a garden. However, the one we ended up with was not: it had a small brick patio and on three sides, brick planters filled with soil. I asked our landlord if he could recommend a gardener and he shrugged suggesting that I furnish the area with some potted plants and some chairs.
Even as a novice, I knew it wouldn't create the desired effect, but I wasn't discouraged. That winter, I placed a chair and used a fire pit that my in-laws had given us. Even without a single plant or flower, the future garden has become a refuge. A place for me to process all that we had been through. It was by the fire that I listened to the audio version of Isabel Wilkerson's book on the history of American races, Castesometimes weeping, sometimes shivering at the atrocities she described.
Then I met Luigi, my landscape designer. We took a guided tour and imagined the space together. He recommended bamboo for the side walls because it would be sturdy and grow quickly. I wanted night jasmine on the back wall. He told me it was expensive. I let him know that I didn't care. My family loves to cook, so we sketched out a space for a large pot to grow sage, rosemary and other herbs. We also planted agapanthus, geraniums, sagebrush and a privet shrub that could be made into a lollipop. As for furniture, I brought a lounge chair, loveseat, accent chairs, and tables. We installed a small grill and added a small pizza oven.
I had my garden. This is where my days begin and end. It's especially magical when my husband and daughter go on an adventure and I find myself alone with the scent of jasmine, a cup of tea and a book. I love it when we have sunset parties and the greenery is lit only by the solar string lights we have strung all over the space. This is a garden that now teaches me the true depth of a line from Toni Morrison's novel tar baby that I had never fully understood before: "At some point in life, the beauty of the world becomes enough. You don't need to photograph it, paint it, or even remember it. That's enough. No records need to be kept and you don't need anyone to share or tell about it.
Where I see old friends and visit for hours and forget to take pictures because we're having too much fun. This is where I sit with the sorrow of world events and the little disappointments in my life. It's my own quiet pocket of beauty. A place to meditate on the world beyond its walls and the effect I have there and vice versa. Alice Walker wrote, "Part of what existence means to me is knowing the difference between who I am now and who I was then." My garden reminds me that in the midst of a pandemic, and at a time of racial awareness, I chose to be a person who said yes to the opportunity, yes to the unknown, then, to the literally and figuratively, has seen this courageous choice flourish.
Veronica Chambers is an award-winning author and editor of narrative projects at New York Times. Follow her on Instagram @vvchambers.
This essay originally appeared in the October 2022 issue of ELLE DECOR. SUBSCRIBE