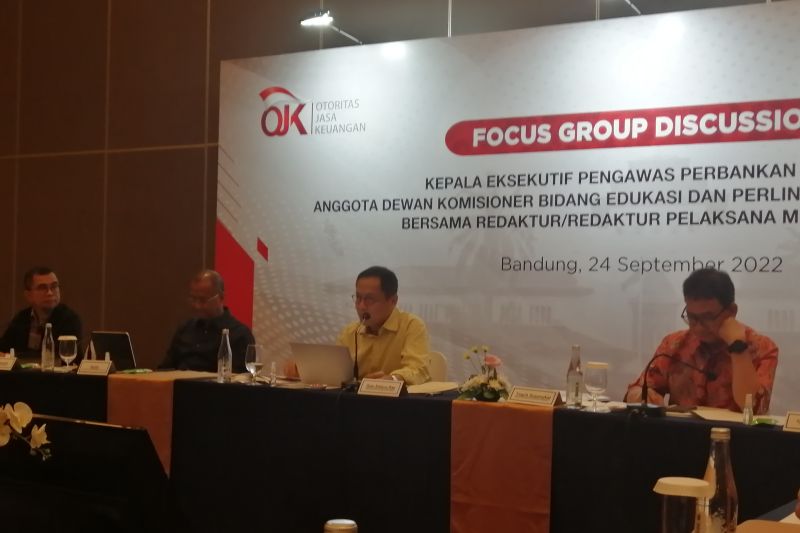 Integrity in the financial system can bring positive perceptions: OJK
BANDUNG, West Java (ANTARA) – Financial Services Authority (OJK) Banking Supervision Chief Executive Dian Ediana Rae stated that a financial system with integrity leads to positive perception and therefore contributes to economic growth.
"A financial system with integrity will lead to a positive perception of the national financial system, which is currently plagued by a number of issues," Rae said Sunday, speaking to the media here.
According to him, the current national financial system needs to be improved as it still has some problems like underground economy transactions like online gambling, drug transactions and unofficial or illegal online lending.
Meanwhile, OJK plays a role in improving the financial system. When integrity is built into the system, it becomes easier to attract foreign and domestic investment, he said.
"This will be our mission for the next five years. Everything has to be tackled fundamentally and systemically. Maintaining trust and integrity," he said.
However, Rae said that building a financial system with integrity is not just the responsibility of the OJK, but the shared responsibility of many institutions and the community.
In addition, he also mentioned that the national financial industry is currently entering a very crucial period due to the dynamic conditions.
Therefore, he stressed, OJK cannot stand alone. Cooperation and collaboration have become a must.
As the regulator of the financial industry, OJK must be able to balance three important things: stability, consumer protection, and innovation, Rae explained.
In addition, OJK's balancing acts overseeing business interests, public interests, consumer protection, government policies and Bank Indonesia policies must be carried out in a systematic and measurable manner.
"The integrity of the financial system needs to be fundamentally built to improve the long-term performance of the financial industry," Rae added.
Related News: Insurance Industry Grows 8.67% Annually Over Last 5 Years: OJK
Related News: 738,853 Student Savings Accounts Opened Under Kreasimuda Program: OJK