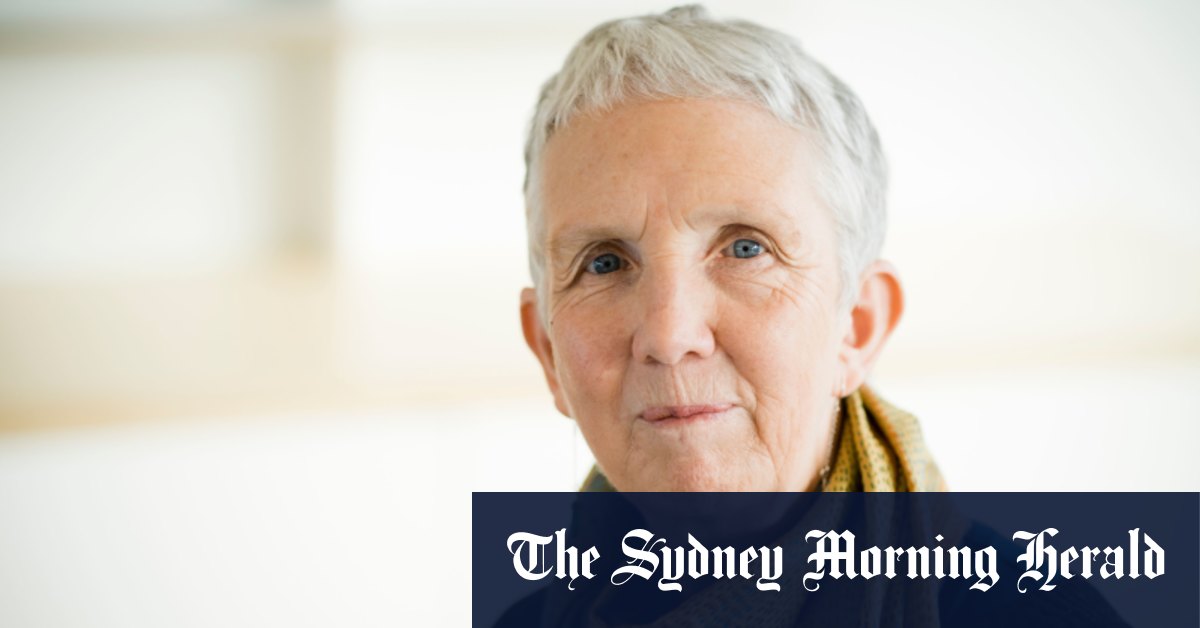 It wasn't until I killed someone that I was away: author Ann Cleeves
Ann Cleeves began writing a novel while living in Hilbury, a small island off the west coast of England where her late husband Tim, an ornithologist, worked for the Royal Society for the Protection of Birds. Cleeves was training to become a probation officer – one of the many jobs she has had and which has, in one way or another, fed into her books – but taking a boat to Liverpool for lessons is became too difficult once she was pregnant. She was not interested in birds. There were no other human distractions. It was time – and she certainly had the space – to write.
"I was going to write a great literary work," she said. "You know, it wasn't so much plot driven. I'm not bad at creating characters, so I had these interesting people. But you can't just have people sitting around talking. Something has to happen. It wasn't until I killed someone that I was away. She had a corpse, a collection of murder suspects, and an obvious end point. She realized how much she loved this shape. "It's a structure that can hold you up, like a corset."
Cleeves and I meet in a 19th-century building in the city of Newcastle, northern England, commonly known as Lit & Phil, a library with eccentricities including stuffed exotic animals on top shelves and regulars who gather there to chat over cut lunches. We sit in the ladies' lounge, sharing space with a piano. Is there another library with a ladies lounge? Cleeves is all about libraries – she worked at one and now gives speeches advocating their importance – but this lovely, crazy place is clearly first among equals.
At 67, Cleeves is the acclaimed queen of modern crime, the title once bestowed upon Agatha Christie (whom, by the way, she was never a fan of: "I still think she's very cold and ruthless. She kills schoolgirls. does Cleeves.) She's a whole different kind of writer. Rather than plotting out her plots in advance, she descends into the dens of investigation with her detectives. "Everyone is a potential killer, certainly up to about a third of the way," she says. "Must be fun. If you knew who it was from the start, what would be the point of writing it? and in a way, what would be the point of reading it?
Success came to Cleeves at a snail's pace. She had been writing for 20 years and working various other jobs – she reckons she earned just enough writing to pay for family vacations each year – when her 2006 novel Black Crow won the Golden Dagger Award for Crime Writers. Suddenly, she was in the big leagues. Black Crow was the first of his novels set in Shetland, featuring conflicted detective Jimmy Perez. Perez was later to translate on television, played by Doug Henshall in the hugely popular series Shetland.
Her peak creation is undoubtedly the defiant Detective Inspector Vera Stanhope. Cleeves' career took another upward turn three years after her big award when Elaine Collins, a television producer, took on a 10-year-old novel titled The crow trap – Vera's first mystery – to an op store and took him on vacation. She was immediately taken by DI Stanhope's Crimplene robes, often jaw-dropping rudeness and ability to solve crimes in telegenic settings. The result was the Sunday night charmer Vera, starring Brenda Blethyn, first aired in 2011; the 12th series is being filmed.
What makes Cleeves' novels so distinctive is their sense of place. Vera works in the windswept corner of northeast England, where her designer has lived most of her adult life. images of fleeing clouds, lonely moors and wet sheep rise from the pages. "I couldn't write a novel in a place I didn't know well," Cleeves says. "Because I think characters grow from places, not just where they were born, but also in the streets they played on and in the community. It's a kind of human geography.
His latest novel, The rising tide, is located on Holy Island just off the coast of Northumbria, site of a medieval monastery that is still a destination for pilgrims who follow a soggy route to the island across the sands when the tide is out. When he enters, the path and the paved road are submerged; the only hope of survival for anyone trapped by the rising waters is to head up one of the ladders to the wooden towers along the trails. This is the perfect place to cause an accidental death.
The story revolves around a group of old school friends who reunite every five years on the island where they first went as a sixth grade gang. One of them drowned – apparently after voluntarily running away at the wrong time – during the first meeting. They came back anyway. They are now in their sixties, the age of Cleeves. One of the band members suffers from dementia; another is in trouble at work on a MeToo harassment charge. When he is found hanging in his bedroom, it is initially assumed that he died by suicide. None of his friends can believe he would do that. Neither did Vera Stanhope.
TAKE 7: ANSWERS ACCORDING TO ANN CLEEVES
Worst habit? I'm always way too early. And not only that, but I expect other people to be ahead.
Biggest fear? I think it has something to do with your children, doesn't it? There is a saying that a mother is only as happy as her least happy child.
The line that stayed with you? The EM Forster 'Only connect' line, which I find so important. Forster means to connect between different kinds of people.
Biggest regret? That I suck at music.
Favorite room? My living room in my cabin in Northumberland, which has a great view.
The work of art you wish was yours? There was a painting that Tim and I saw when he worked for the Royal Society for the Protection of Birds in Wales. It was just a painting of hay bales, quite blurry and impressionistic; we both loved it, but we couldn't afford it.
If you could solve one thing? Well, we would all like to solve the problem of climate change, right?
Cleaves wrote: The rising tide during confinement. "It's not about containment," she hastens to say. "But I think in a sense it was my book on lockdown, because it was about the growing awareness of older people about mortality. The band met when they were 16, so there's this sense of life passing and changing, but still all this intensity of friendship that they had when they were at school. And that willingness to forgive, I guess, because you've known these people for so long. Things you might not forgive a stranger.
Cleeves went to school in North Devon, a lush rolling coast now far too popular with tourists for her comforts; it is also the favorite terrain of his new detective, Matthew Venn. When The long call, Venn's first book, launched there in 2019, she invited her own coterie of school friends to accompany it. "These were people I hadn't seen in years and years," she says. "It felt like yesterday when we met. Sharing old jokes, talking, being completely comfortable with each other, not pretending. This gathering became the first building block of the new book .
The MeToo affair – a privileged white man in the media, everyone assumes, exercising his vanity – came from somewhere in the ether. "I'm not aware of it, but I think it was probably vibrating in the background as I was writing this. Certainly there were things that happened to all of us back then, as young women. I never would have thought to call them; you would have been considered really stupid to fuss. How wonderful that people don't have to put up with that anymore.
Cleeves has been married for 44 years. When Tim died suddenly five years ago, she was still living in the Whitley Bay home they had purchased shortly after getting married. She bought her cottage on the moor after returning from a book festival and found she couldn't bear to walk through her own front door.
"Because in the past Tim would have been there saying 'no, don't come in, don't come in the kitchen, just go into the front room and I'll bring you a glass of wine! I really couldn't get in because he wasn't there. I thought 'I need a place where I can go where there won't be any memories'. Five years later, widowhood is easier. Easier, she thinks, than many others; she always enjoyed her own company. "Tim would have hated that I had a second home," she laughs. "He was a real seedy socialist."
The mysteries remain his comfort reading. "Since childhood, it was the books that made me read to the end, wanting to know what will happen next." She loved The Golden Age of Marjorie Allingham and Dorothy Sayers, adored Sayers' Lord Peter Wimsey, books that recall a sort of Downton glamor and privilege. "But actually it was a time of a general strike, and here in Tyneside it was a time of extreme poverty. And those people were reading those books too, so I think it was about the meaning of the "Order that was restored. That's what makes the murder mystery so enduring. It's a story you can get lost in when times go bad. And everything is solved."
Loading
Ann Cleeves is touring Australia – see anncleeves.com for details. The rising tide (Pan MacMillan) is now available.