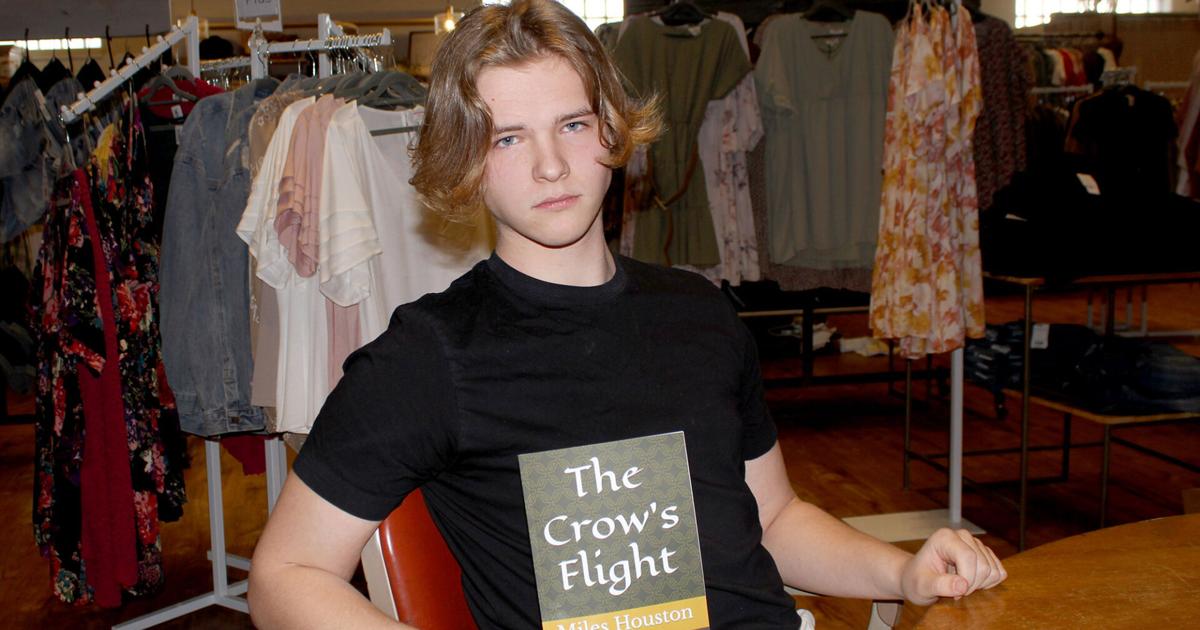 Manning becomes a self-published author and prepares to sign a book | News
At just 15 years old, Manning resident Miles Houston managed to become a published author and cultivate millions of streams for his music.
Dually enrolled through home schooling and the IKM-Manning School District, the high school student dedicates his time to creating art through his words.
His book, "The Crow's Flight," was published last November. The story centers on two brothers named Amaro and Conrad Espero, both of whom came from humble beginnings and grew up to be kings. However, darkness begins to consume their kingdoms, leading to betrayal.
The Carroll Public Library will host a book signing featuring Houston on March 22 from 10 a.m. to 12:15 p.m.
Houston said he classifies the book as a "weak fantasy", incorporating magic into the story but not delving into fictional creatures.
Houston wanted to write the book as a "comfortable classic", a book where a reader can walk by without it feeling like a huge undertaking. The book was originally 200 pages, but after Houston went through it and cut out the "fluff", it ended up at 147 pages.
When creating the story, Houston said, it took about six months to write. During the process, Houston said, there were instances where he "wanted to throw the book away and never see it again."
To overcome his writer's block, he referenced the book "Spilling Ink: A Young Writer's Handbook", by Anne Mazer and Ellen Potter, where he used the advice to sit down with his characters and have a conversation with them.
"I couldn't leave these characters hanging," Houston said. "It was almost like you were dropping a fictional person."
Even though the book has darker tones, Houston said, he wanted the book to appeal to a wide range of ages, so he showed his younger brother a copy. In formatting her book, Houston also consulted with her mother and friends.
Although his friends provided direct comments, Houston said he appreciated hearing them.
"There were a few times they encouraged me to break the monotony, which was helpful," Houston said.
Lately, Houston said, he's been busy reading Western and detective literature, hoping to try and write a mystery book in the future. Currently, he is reading "True Grit" by Charles Portis.
Outside of writing, Houston has also produced three albums, titled "Frequencies from the fallout", "Find me @ at the BOTTOM", and "American Dreamer".
In order to share her music worldwide, Houston used a service called RouteNote, which publishes her music on Spotify, Apple Music and Amazon Music.
His music has garnered 11 million streams worldwide, gaining listeners from South American and Asian countries.
"It's weird because nothing has changed," Houston said. "I still live in the same place and do the same things every day, but all these people listen to me."
Later, Houston says, he hopes to one day go on tour for his work, whether it's for a book or his music.
For any young author working on their book, Houston said, he advises not to take criticism from other readers too personally. While evaluating his work, Houston said he thought comments should be critical, but not harsh.
"It's not comments about you, it's comments about your project," Houston said. "If you have a boring scene, it doesn't mean you're boring, it means that scene can be slow, and be patient. Don't write something you think is mediocre and just leave it.
At his book signing, copies of "The Crow's Flight" will be available for $7, with payments accepted in cash, check and PayPal. A Kindle version is also available on Amazon for $4.
"I'm really excited for this book signing, hope it goes well," Houston said. "If even one person shows up and gets a book, I consider that a success."