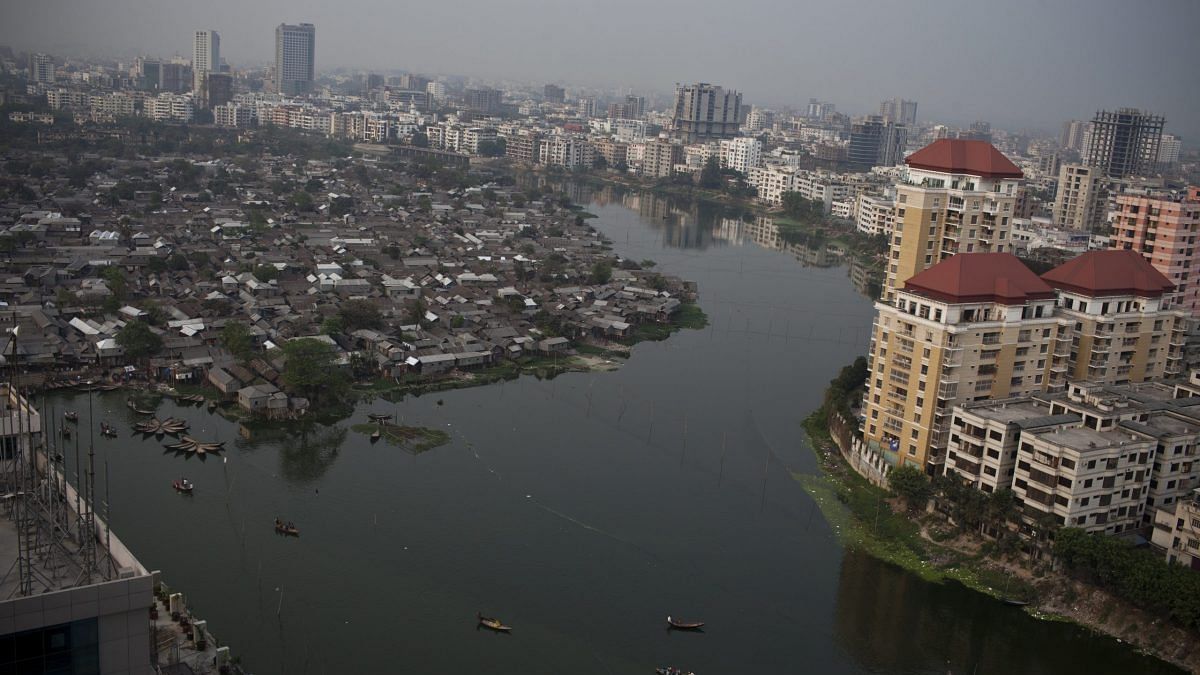 The jihadists in Bangladesh are still going strong. Economic gains are not "victories"
Jhe men gently floated down the Rupsa River from the Khulna launch pier, past the burning villages of Laban Chore and Mathabhanja, washed away by the tides along with the bodies of the dead. The great river, Mohander Dhali would tell investigators, had turned red, dyed with the blood of victims of the savage anti-Hindu massacre that tore Bangladesh apart in 1964. corpses were seen at every dyke and bend in the river, all along its downward course.
Last week, mobs torched Hindu-owned homes and businesses in Narail's Sahapara and vandalized local temples after a teenager posted content critical of Islam on Facebook. There have been a series of similar assaults by mobs in recent months, starting with Durga Puja last fall when seven people were killed.
An independent watchdog, the Ain o Salish Kendra, estimates there have been more than 3,600 attacks on Hindus since 2013. In that year, Bangladesh's largest Islamist group, the Jamaat-e-Islami , sparked large-scale communal violence to protest the conviction of its leader, Delwar Hossain Sayeedi, for the war crimes he committed during the 1971 freedom campaign.
Even though Prime Minister Sheikh Hasina and his government have sought to eradicate violence, Islamists remain an entrenched part of Bangladesh's political landscape. The regime's authoritarian policies — driven, in part, by its efforts to eradicate jihadism — have undermined its legitimacy, forcing unfortunate compromises with competing Islamist groups.
From its famine-ravaged and blood-soaked birth, Bangladesh has managed to transform itself into one of the fastest growing economies in the region. Fundamentalism, however, remains a powerful force, threatening to undo these hard-won gains.
---
Read also : Why Bangladesh Is Absolutely Silent Regarding BJP Leaders' Anti-Prophet Remarks
---
The communal tide
From the moment of independence, the Hindus of East Bengal were subjected to genocidal violence: one and a half million refugees arrived in India in 1950; more than 6,000,000 in 1951-52; 1.6 million more from 1953 to 1956. Largely landless Muslims also flocked to the east, but did not leave behind properties that could be used for rehabilitation. India considered war to seize territory in Khulna and Jessore, historian Pallavi Raghavan has reported, only to realize war would mean even more refugees.
Violence slowly waned from the mid-1950s, but political leaders had learned that communalism could be used for electoral gain, as well as personal gain.
In 1962, violence against Hindus in the Rajshahi district sent 35,000 refugees moving to West Bengal and Assam. Their lands were often seized by local politicians and used as a tool to dispense patronage.
Then, in the winter of 1963, violence erupted in Kashmir, after a religious relic was found missing from the Hazratbal shrine. The Indian state disintegrated, with protesters setting up what one contemporary observer described as "an unauthorized parallel administration, controlling traffic, trade and prices". The Pakistani media claimed – baselessly – that Muslims had been massacred, from Kashmir to Calcutta.
The Dhaka Azad Newspaper, Indian Commission of Jurists Registered Report said, "Hindus are unreliable. They can kill their mothers and their fathers. Whenever the opportunity arises, they will strangle Muslims to death.
Pakistani Communications Minister Abdul Sabur Khan led crowds who reacted to those words in 1964. Leaflets were distributed by his supporters, the Commission was told, demanding that Hindus leave East Pakistan . From the testimony of eyewitnesses, it is clear that he often used the opportunity to seize the lands of the fleeing community.
---
Read also : Pakistan's apology to Bangladesh is a thorn in the throat. Neither can outrun it
---
The killing machine
Faced with mounting opposition from 1970, Pakistani authorities turned to communal leaders to form an institutionalized killing machine against Bangladeshi nationalism. "The only people who came forward were the right-handers," wrote former Pakistani army brigadier Siddique Salik. Figures like Sabur, he writes, recruited volunteers for two death squads – al-Badr and al-Shams. "In the name of Islam and Pakistan", observed the officer, the volunteers "were ready to risk everything".
Led by Jamaat-e-Islami politician Matiur Rahman Nizami, al-Badr engaged in murders of nationalists, as well as violence designed to force Hindus to flee the country.
Formed in 1953 by Islamist ideologue Abul Ala' Maududi, the Jamaat-e-Islami sought to make Pakistan a Sharia-ruled state. The organization had little electoral success, observed political scientist Seyyed Vali Nasr, but gained outsized influence in shaping the Islamic Republic's constitution and norms.
Like Pakistan itself, the East Pakistan Jamaat was wiped out in 1971 but reemerged under Major General Zia-ur-Rahman's rule. His successor, General HM Ershad, even appointed two 1971 war criminals, Abdul Mannan and Salahuddin Quader Chowdhury, to ministerial posts. Khan was granted amnesty in 1972, then staged a triumphant electoral comeback.
From 2001 to 2006, the Jamaat allied itself with the Bangladesh Nationalist Party (BNP), joining the right-wing coalition that ruled Bangladesh. The Jamaat used its control over the Ministry of Social Welfare and the private sector Islamic bank to build a vast network of patronage.
The 2008 election saw the defeat of the BNP-Jamaat alliance following a youth vote demanding accountability for the release of war criminals. Islamism, however, had to show resilience.
---
Read also : Stop seeing Bangladesh as "East Pakistan". The last 50 years are a missed opportunity
---
The jihadist current
Two intertwined jihadist currents, as the work of researcher Ali Riaz shows, were nurtured under the shadow of military authoritarianism in Bangladesh. The first was volunteers who traveled to Afghanistan to fight against the Soviet Union and returned home to form the Harkat-ul-Jihad-e-Islami in Bangladesh, which focused on fighting India and the Myanmar. In 1998, a second generation formed the Jamaat-ul-Mujahideen Bangladesh, which fought to transform Bangladesh itself into an Islamic state.
Even though the Jamaat-ul-Mujahideen was ruthlessly suppressed, new tendencies emerged. Led by elements of the Bangladeshi diaspora in the UK, Hizb-ut-Tahrir brought ideas of a global caliphate to the country's elite campuses. The Al-Qaeda-affiliated Ansarullah Bangla team began assassinating progressive activists. Islamic State-inspired groups formed the fifth circle of jihadism in 2015.
The figures show that Bangladesh has been able to hold its own – terrorism-related deaths have fallen steadily since 2014, but the victory has come at a price.
To protect itself from attacks by jihadists and the Jamaat-e-Islami, Prime Minister Hasina's government has allied itself with Hefazat-e-Islami Bangladesh, a movement of clerics and seminary students in the country. The Hefazat emerged on a platform of demands, which included the incorporation of Islamic language into the constitution, gender segregation in public places and capital punishment for blasphemy – gnawing at the Jamaat-e-Islami constituency.
Early on, Prime Minister Hasina conceded several Hefazat demands, including the removal of the sari-clad Lady of Justice statue from the Supreme Court, which she called heretical. The government also recognized seminary qualifications as equivalent to university degrees and made changes to textbooks.
The Awami League purged anti-religious politicians from its ranks. Four-time MP Abdul Latif Siddique was expelled from the ruling party after announcing his belief that the Hajj pilgrimage was a "waste of time".
Since 2020, however, confrontation has built up with the government. Hefazat clerics began calling for the statutes of Bangladesh's founding leader, Sheikh Mujibur Rahman, to be repealed, arguing that they constituted a form of idolatry. Then, the following year, Hefazat politicians led violent protests against the visit of Indian Prime Minister Narendra Modi.
The Hefazat's chauvinistic ideas, however, proved difficult to contain. Researchers Mubashar Hasan and Geoffrey Macdonald noted that the pandemic has contributed to these strains. Islamist propagandists have skillfully used digital media to spread claims that the pandemic was divine punishment for the government's anti-Islamic policies and called for its replacement with a Sharia-based state.
Anti-Muslim controversies and violence in India have also been used to target Hindus and the idea of ​​secularism in Bangladesh.
The country's experience offers a mirror to India, showing what happens to politicians who fail to confront communalism.
The author is National Security Editor, ThePrint. He tweets @praveenswami. Views are personal.
(Edited by Srinjoy Dey)