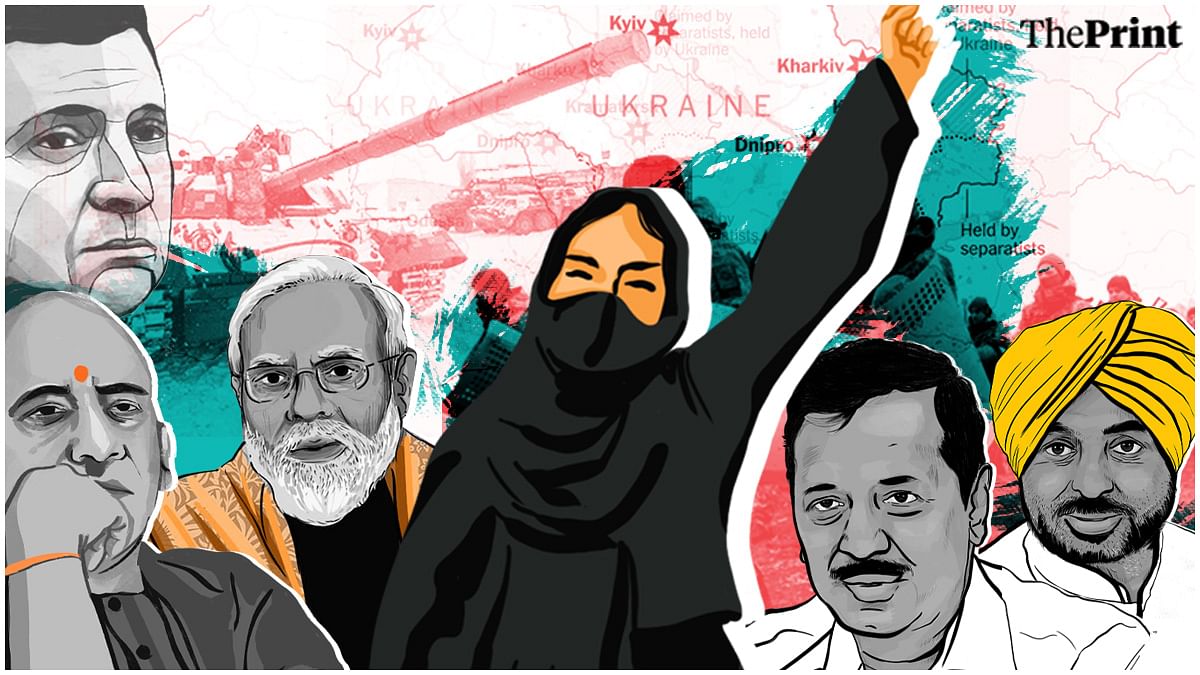 ThePrint has new features, authors, office. But we missed a journalist in Ukraine
JThe more things change, the more they stay the same.
AT The footprint, the commitment to independent, objective and responsible journalism remains stronger than ever. However, discerning readers may have noticed a few important new features, introduced to provide better coverage of the news and the world we live in.
Is it my imagination, or is it a particularly high-profile first quarter? Think about it: In January, coronavirus cases spiked across the world and in India in the third wave of the pandemic. Worse still, it was one of the longest, coldest and wettest winters in northern India.
Meanwhile, the hijab row over Muslim students' demand to be able to wear the garment in school/college rocked Karnataka and the country in January and February. In March, the Karnataka High Court banned the wearing of the hijab in class.
And then there was what is deliciously called "Democracy Day": elections in five states in February and March. It saw the ruling Bharatiya Janata Party (BJP) record fine victories in four states (Uttar Pradesh, Uttarakhand, Goa and Manipur) while the Aam Aadmi Party (AAP) scored a first and famous victory in Punjab.
Finally, we are now entering the fifth deadly week of Russia's invasion of Ukraine – a conflict that has strategic, political, economic and humanitarian implications for the world. India had to organize the airlift of thousands of students from the country after the outbreak of hostilities.
When so much news is rushing at you from all directions, all at once and jostling for space, a news organization must be fast, nimble and dynamic to create a smooth flow of news, views and analysis. for his readers. By serendipitous coincidence, recent changes at ThePrint may have helped it do just that.
---
Read also : Lost, found or missing: For many runaway children, the dice are rolled at New Delhi railway station
---
Faster news and views
"Please sir, can I have more" – This unforgettable line from the movie Oliver Twist (1948) describes what readers want: more information, deeper analysis, and an opinion to help them understand things. And ThePrint now publishes a lot more news than before. Since January, it has automated the publication of news from leading agencies such as PTI, Bhasha (Hindi version of PTI) and ANI.
Previously, the editorial team would constantly sift through agencies' story lists, choose stories they thought readers would be interested in, change titles, add visuals, and then publish the reports. It was a selective exercise that took time.
The benefits of automation are three-fold: ThePrint now automatically 'ingests' or publishes up to 700 agency stories per day, giving readers faster and higher news updates, while freeing up the editorial team for other work.
The downside is that there is no editorial filter and PTI stories often appear without visuals.
The next big thing at ThePrint is the Speed ​​News Desk, launched in February. Here, a dedicated team of young reporters quickly write 150-200 word stories and publish them before you can say "Jai Hind". Not really, but you get the idea: Short takes the breaking news.
Previously, breaking news took too long to appear on ThePrint, so this is a welcome feature, although it still needs to gain speed and frequency. With the constant news of the war in Ukraine, the Speed ​​Desk has been helpful in trying to deliver the latest news from the warfront, at a glance.
Obviously it's a work in progress, but with the automation of PTI and ANI it offers readers more news on ThePrint, and a platform to also share quick stories from its own correspondents.
---
Read also : ThePrint in Afghanistan and the Value of Putting Boots on the Ground Every Time
---
No boots on the ground in Ukraine
The past few months have been a time of rebuilding and regrouping for the website with new journalists joining ThePrint after a string of departures last year. There is now a fairly balanced mix of experienced editors, journalists and new graduates.
The importance of being back almost complete has become evident during the rapid developments in the news of the past few months. It made it possible to cover in depth the electoral campaigns as well as the Ukrainian conflict: Until 10 correspondents and editors traveled to Uttar Pradesh to report on the two-month election campaign while others traveled to Punjab and Uttarakhand. ThePrint also had a correspondent in Manipur throughout the campaign. This working knowledge of each state paid off in coverage of the March 10 election results – ThePrint had its biggest readership on election day.
Ukraine posed questions to all the news agencies: how to cover a war – something most journalists are no longer used to – in a country that most readers have not even heard of, but which has a strong Indian connection with thousands of students stuck there?
Above all, what to offer readers when the international media and Indian television news channels are already swarming everywhere in the conflict?
For printing, which prides itself on covering strategic international affairs, a crucial question was whether or not to send a senior correspondent to report from scratch in Ukraine? Remember, ThePrint is one of the few Indian news agencies that sent an editor to Afghanistan last summer when US troops left the country and the Taliban came to power.
A journalist was not sent to Ukraine. Looking back, given the level of interest in the conflict among Indian readers and the strong Indian angle to the conflict, I think it was a missed opportunity – especially when there were few Indian print journalists in Ukraine, and that TV news coverage wasn't grainy.
Instead, ThePrint assembled a small, dedicated editorial team led by Praveen Swami, who joined ThePrint in January 2022 as National Security Editor. This team focused on all of Ukraine. He published reports, reports, in-depth analysis of various issues that the conflict had raised – from the medical education of Indian students in the country and why they went abroad, to the expansion of NATO in Eastern Europe, the arsenals of nuclear weapons in a possible face to face, with the implications of the war for India. There were also reports about something as unusual as the idea of ​​nationhood in Ukrainian cinema and Vladimir Putin's Indian tailor.
These were backed up by expert opinion pieces, video packages from the war, uncut speeches from world leaders including Volodymyr Zelenskyy and Putin of Ukraine, explanations and analysis from editor-in-chief Shekhar Gupta , Praveen Swami and discussions led by consultant editor Jyoti. Malhotra.
Reader/viewer interest was high in the first few weeks – which is why even the Hindi "Aaj Ka Mudda" about Ukraine was widely watched – so it seems ThePrint's approach has carried its fruits. Still, boots on the ground would have enriched the cover.
---
Read also : What our ThePrint readers are saying – the good, the bad and the headlines
---
Our premium offers
Two other aspects of ThePrint's coverage should be mentioned before we move on.
First, with new faces in the newsroom, the Opinion section has been busy looking for new voices and has found some important ones: respected commentator Vir Sanghvi who writes a weekly column and author Anirudh Kanisetti who calls himself an "amateur historian". '. Pay attention to their articles.
Also, you may have noticed that the weekend has more of what we call "sweet stories" or the long form on topics like society, arts, sports, and more. I used to be an editor myself and I think that really helps draw in readers uninterested in politics or strategic affairs.
Before signing off for the month, a bit about 'TFP' – you may have noticed this printed alongside some stories in a little purple box. These are stories that will be included in "The Fine Print" (TFP) – ThePrint's premium offering behind a paid section where only those who subscribe will be able to read the best stories.
Everyone in the company does it and so it was only a matter of time before ThePrint did too. The idea is to develop and write quality journalism and present it behind a paywall. That's the twist of the story and the challenge: content has to be exceptional for readers to put their money where their eyes are.
Will ThePrint be able to create and sustain high-quality journalism? Let's wait and watch.
In the meantime, write to us and let us know what you think of ThePrint – we'd love to hear from you.
Shailaja Bajpai is ThePrint's Readers Editor. Please write with your opinions, complaints to [email protected]