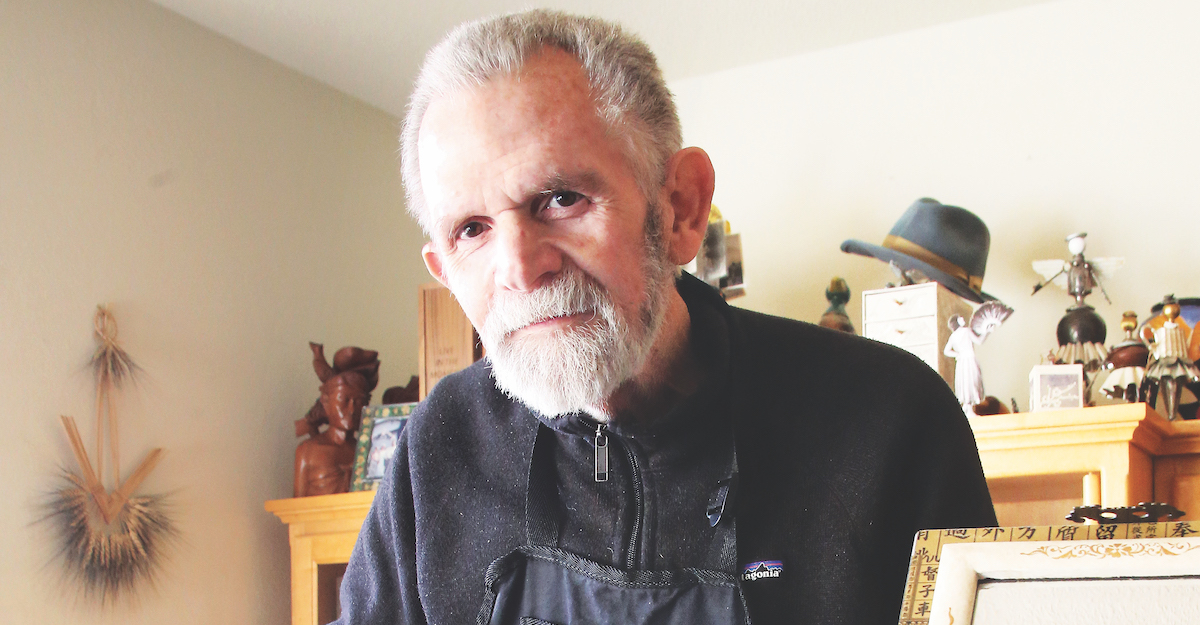 Virtual event reads celebrates great Santa Cruz writer Jory Post
In his last summer, in a burst of impossible energy, Santa Cruz writer Jory Post writes an essay every day. Post died in January of pancreatic cancer, and now several of his fellow writers have compiled his final pieces into a new volume of brief, harsh, and elegiac bursts. Title Fresh of the day, this compilation of short pieces – fictional riffs, dreams, memories, eccentricities – vibrates with the author's sunset green lightning. Sex, enemies, regrets, joys, nothing is forbidden. Post gives us meditations on the word "verve," the merits of the Gregorian calendar, a beloved editor he scolds as "Ms. Bossy Pants. It's irresistible stuff, perfectly observed.
With a Zoom launch for the book coming Friday, November 12, I asked its editors to consider bringing Daily Fresh to life.
Kathryn Chetkovich:I heard the pieces that make up Fresh of the day as they were being written – hearing the week's catch was one of the agenda items for our regular Sunday morning visits – and I was always eager to see how the various incidents and concerns of the week would be woven into the fabric of a new but finished trial. How Jory was able to start with a single word, a memory, a "lightbulb" note in his journal, or an event in the world, and literally do something with it.
"In 'A Shift in Focus', this dual purpose is explicit. The piece takes off from the "cold steel rod piercing your brain behind the left eye" and uses this intensely felt pain as "an entrance into creativity". Focusing on this very process, the essay describes how it is done – how it is possible (sometimes) to use invasion as a starting point. . . connect it to your brain and start spitting out words and thoughts from your fingers until sentences are formed. Soon we're looking at the jay at the feeder and wondering about his navigational skills, and from there it's the next presidential election and a quick Google search of the distance to Loma Prieta, which at his ride leads to a childhood memory. The piece goes "sideways" in a way that is classic Jory. And all the while, there's his own awareness of what he's doing, using writing as a practice to both distract and focus his own mind. "Yes, that's really your only option today and every other day you have left," he wrote. 'Then carry on.'
Paul Skenazy:Editing Fresh of the day offered surprise after surprise. I knew some of the essays from the emails Jory wrote me in the summer of 2020 when he was working on these pieces. Each offered Jory the chance to wonder what he wondered and see where this wonder took him. Each essay tackles a different topic, often in surprising ways. But there are also continuities. Jory was dying; the chemo treatments were exhausting him; he had lost weight; he suffered constantly. The pandemic continued, isolating him from his friends and family. Her mother's health was failing. The CZU fires raged; suddenly he and his wife Karen welcomed the new homeless people – four adults, two children and three pets – into their home. These events have captured Jory's attention, but do not obstruct his vision of the day, fresh if not always festive, in front of him. While mostly confined to the home, his mind and imagination traveled: to a baseball game he loved to play as a child, to learning to swim, to fried egg sandwiches, golf, his life as a teacher, his named and anonymous friends. These characters, memories, and encounters offered jumping-off points for one leap of faith after another—each a daily effort to find, create, and sustain a curiosity about, as it titles one essay, "What's Next?"
Elizabeth McKenzie:These essays represent so many facets of Jory's incredible spirit. But I will choose one. In "December 7, 1932 – Santa Catalina," Jory admits to being fascinated by small town newspapers and a website where they are archived. He lands close to his mother's birth date, and soon we are immersed in all things Santa Catalina Island the week of December 7, 1932. With Jory as our guide, we learn that the Cubs were holding their winter training there, that big game fishermen could have their catch easily taxidermied, that the St. Catherine Hotel had a weekly "Avalon Night" with a 0.65 cent buffet, that a collection of stories of Washington Irving was added to the high school library, that after a week's stay the Barrymores left on their yacht, and that a Mrs. Orr was knocked down and badly bruised by a large dog.
"In each of these trials of Fresh of the day, Jory demonstrates his pleasure in unearthing esotericism; he finds meaning in things that others might not. And he communicates this pleasure and makes it contagious. Ordinary things become singular under his gaze. Jory read some of these essays to me the same day they were written. I was amazed, as always, by his first draft skills, and emotionally impressed by his wit. And it is a privilege to contribute to the emergence of such a significant literary work.
There will be a launch party for "Daily Fresh" (Paper Angel Press) on Zoom Forward on Friday, November 12 from 5-6 p.m. To register, go to santacruzwrites.org/events.